"At the right place at the right time. A conversation with Karol Radziszewski"
By Magda Szcześniak
Originally published in "Jednodniówka Muzeum Współczesnego Wrocław" on November 30, 2012. Publication accompanying Karol Radziszewski's America Is Not Ready For This exhibition at Wroclaw Contemporary Museum (30.11.2012–4.02.2013)

http://muzeumwspolczesne.pl/mww/wp-content/uploads/2012/06/Jednoniowka-AisNRFT-druk.pdf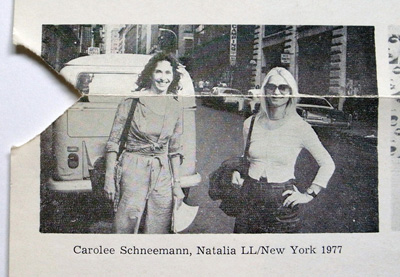 Magda Szcześniak: Natalia LL spent three months in New York in 1977 on a Kościuszko Foundation scholarship. This event became the starting point of your latest artwork America Is Not Ready For This, presented at the Wrocław Contemporary Museum. Why did you consider this event significant?
Karol Radziszewski: I found out about Natalia LL's trip to New York by accident while conducting a radio interview with her. I asked her then about the context of creating the photographs taken during the New York demonstrations in defense of the rights of sexual minorities. There aren't a lot of queer motives in Polish art. The photographs present Natalia LL in the streets of New York during the parades and they have gained a certain prominence within the Polish art historical discourse. They were first shown during the exhibition titled Animal Art and an Unknown Episode from Consumer Art (2007) in Galeria 86 in Łódź, and were later included in Łukasz Ronduda's Polish Art of the 70s, as well as the exhibition catalogue Three Women. Maria Plińska‑Bereś, Natalia Lach-Lachowicz, Ewa Partum. So I asked Natalia about them. It turned out that they were taken during her three-month stay in New York, during which she met many artists and gallery owners. It was during a meeting with Leo Castelli – a gallery owner and a patron of the arts, a very influential figure in the American art world – when the sentence used in the title of the project was uttered. While watching Natalia's works, Castelli is believed to have said that "America is not ready for them." The artist interpreted these words as a statement about the prudishness of the American society.
What I found particularly appealing in Natalia's story was the contradiction of the nostalgic Eastern European stories according to which we are always lagging behind. In this case, Natalia and her progressive works ended up precisely where they were supposed to – in New York in the 1970s. She was standing with her already acclaimed works in front of the most important gallery owner in America. All of the the conditions were met, just like in a Hollywood film, but nothing came out of it – at least according to American standards. Neither a success nor a failure, simply nothing.
Of course, this story interested me also because of the character of my work. I work in the Polish art market and, to a certain extent, the foreign one as well. When I first went to the USA on a residency, I had to introduce myself, say something about myself, construct a new narrative and decide which elements to emphasize and which to eliminate. Nowadays, it is easier to be "in the right place," but I never made the decision to stay "in the West." Seeing these and other similarities of Natalia's situation and mine, I wanted to take a closer look at her story.
MS: The final result of your project is a film and an exhibition, you are also thinking about a book. The work process was a running investigation, an attempt to recreate the events, which took place during a few months in 1977.
KR: After the radio interview, I asked Natalia for a longer meeting. Together with a film crew, I stayed for two days at her studio for and asked a lot of questions about her stay in New York. The material evidence consisted of a folder published by Permafo in 1978, which included, among other things, photographs documenting Natalia LL and Andrzej Lachowicz's stay in the USA. The newspaper, which looked more like a gossip column or today's Facebook photo album, stimulated my imagination even more. That was when I first saw photographs of Natalia with big artists, also important to me personally – Joseph Kosuth, Hans Haacke, Carolee Schneemann.
I decided to continue my investigation during the residency in New York. Together with the curators of the residency program, we tried to get in touch with people from the photos, to see if they remember meeting Natalia. Some of them had died; I wrote letters and emails to others, sometimes I attached photographs. I asked them to meet me. I was turned down a few times at the beginning, mainly because they didn't remember meeting Natalia (Hans Haacke) or thought they had nothing interesting to say (Lucy Lippard), or excused themselves by saying they were busy (Anthony McCall, Sarah Charlesworth, William Wegman, Colette). What I wanted to achieve was a confrontation of images recorded in the memories of individual people – their memories, Natalia's memories, as well as Polish and Western art historical narratives. These refusals were important in and of themselves; however, I also started looking for people who hadn't met Natalia in person, but who could tell me more about that moment in history and culture. I met with Douglas Crimp, AA Bronson and Vito Acconci, among others, who brought back the atmosphere of New York in the 1970s in an interesting way and gave me a better picture of what Natalia was exposed to and what America was "ready for." Later I managed to talk to Mario Montez and Marina Abramović.
MS: What strikes me is the unparallel character of memories and narratives – they rarely interweave. The stay in New York was an exceptional event for Natalia LL. From the perspective of artists from New York, she was just one of many foreign artists coming to the USA. But it is not only about the different structures of memory, but also about different languages used to describe these events.
KR: Maybe my assumption was wrong – being in a photograph doesn't mean that you have to remember the situation documented by it. In spite of that, I find these differences interesting. Natalia talked a lot about her meetings and parties she attended – about Westbeth, an artists' house in which the Kościuszko Foundation rented some spaces; about Hans Haacke's studio, which was one floor above; about his Italian partner and her Italian dinners. Hans Haacke on the other hand replied that he has no memory of such a person and doesn't want to meet. Here, a question about the character of sources emerges, about their potential usefulness in the art historical narrative. We must remember that these photographs don't document a friendship or artistic cooperation; they are rather snapshots from art openings, parties, informal meetings. As for the language used to describe past events – Natalia's stories are constructed from memories of social events and tourist activities.
MS: The title America Is Not Ready For This questions the traditional division into central Western art and peripheral Eastern art. Natalia travels to New York with her Consumer Art (1972) and Postconsumer Art (1974) and Castelli tells her that she has outraced America. However, Castelli's statement can be understood in several mutually exclusive ways. Is that why you posed this question to the people you interviewed – Vito Acconci, Marina Abramović, AA Bronson, Carolee Schneemann and others?
KR: I was intrigued by this reversal of perspectives, but my assumptions evolved as the project progressed. The absurd literal character of this statement appealed to me from the very beginning. It is worth noting these works had been made a few years before 1977. This is only when they were confronted with the American art world. I thought a lot about the fact that both Intimate Photography, which presented sexual intercourse, and Consumer Art were shown in state-owned galleries in communist Poland while an American gallery owner rejected them on the pretext of being obscene. The American art market has always been dominated by private galleries. What they showed was to a large degree determined by whether it would sell. I wanted to ask whether it was possible that certain issues were raised in Poland (despite communist censorship) because the local art market was not determined by sales.
It turned out that my approach was somewhat naive, but maybe because of its provocative character it triggered very different reactions in my interlocutors. The question is approached differently by Antonio Homem (inheritor and current owner of the famous Sonnabend Gallery), differently by Vito Acconci, differently by the feminist artist Carolee Schneemann, and even more so by Marina Abramović. Their responses form a panorama of attitudes in the art world, also towards art made by newcomers.
MS: It turned out that – even from the point of view of such a small milieu as the New York 1970s art world – it's impossible to construct a coherent narrative of the conditions in which artists worked, of feminism, of social norms. Your interlocutors give very different answers to the question whether America was ready for "that." They are so varied due to the multitude of art scenes and attitudes, which might have been incomprehensible for officials planning art residencies and scholarships for artists. Marina Abramović was shocked when she found out that Natalia was introduced to the most important gallery owners in New York...
KR: She said that the idea to show provocative art to the most important gallery owners was idiotic. Marina is very uncompromising here, perhaps even a bit unfair – we have to remember about the conditions of presenting Polish art abroad. If Natalia had gone to New York on her own, she might have ended up in alternative art circles. But she was sent on an official scholarship. The trip had been planned ahead, she was introduced to Castelli and shown around his gallery. Both Natalia and Marina speak openly about their decisions. Natalia admits that her stay in the United States was more of a vacation, she had no intention of staying and making a name for herself. Marina believes in the romantic myth of giving up everything for art. And as both of them come from Eastern Europe, confronting these two attitudes is interesting.
MS: You touch on a number of different identity categories in your project. Do you think that both Natalia LL and you have become trapped, or perhaps pushed into a trap of labeling?
KR: You can often hear that certain things come to Poland with a delay and that is why we are so eager to attach fixed labels to certain phenomena. For me, the answer to the question about Natalia LL's feminism and the feminist character of her art is far from obvious. Was Natalia a feminist artist? Was she the first Polish feminist? In 1971, Natalia LL received a letter from Lucy Lippard, an American art historian engaged in the feminist movement. She sent Natalia a feminist manifesto and a letter. The documents were probably destroyed during the 1997 flood, not many people had seen them. The letter is often quoted as evidence of the existence of Polish feminism and not just feminist intuitions. I wanted to face this myth and meet Lippard, but she refused, saying that she doesn't remember much from those days and that she is not interested in feminism any more. Schneemann, in turn, told me that Lippard would send out hundreds of these letters to places all around the world – they weren't addressed to particular persons, but rather distributed on a mass scale.
MS: And here we return to the recurring sentiment about the need to catch up with the West, to prove that important movements and tendencies existed here as well. However, having examined the materials you gathered one may pose a different question – are these frames and contexts compatible? Shouldn't we be looking for unique Eastern European models?
KR: Undoubtedly, the need to "catch up" with something, "tick it off" is provincial. Both my art and Natalia's is interpreted within a certain framework – not only as representatives of certain identities, but also in terms of being "the first artist" in a movement. I am definitely not the first Polish gay artist, but because I made the first openly homosexual exhibition, I function as the first gay artist in the narrative of the Polish art world. All of my work is filtered through such a perspective. I don't want to be overly critical about identitarian frameworks – labeling works as feminist or queer may be productive. I just wanted to investigate the mechanisms of devising frames of interpretation and the limits imposed by them.
MS: Is it possible to talk about an alliance based on the rejection of fixed labels on identity?
KR: What connects my practice and Natalia's is the open approach to sexuality, showing eroticism not in the context of pain or trauma, but emphasizing pleasure and desire. There aren't many works like that in the history of Polish art. Natalia's practice definitely belongs in that category. And that is what I see as an authentic similarity between us. The introduction of certain frameworks in the discussion about art – feminist ones in Natalia's case, queer in mine – is another issue. Natalia herself says that the feminist framework was forced onto her art, but then she became interested in it at a certain point. For some time she would even read out feminist manifestos during her exhibitions. But, as feminist critics add, tired of the male lobby in the art world and the rejection of feminism Natalia drifted towards universalism. In my case, I grew tired of being described as a "gay artist" and I try to dissociate myself from that label.
MS: Do you think it's possible? And, more importantly, productive?
KR: According to some critics, curators and advisors, it's definitely possible. All I would have to do is stop taking up "these issues."
MS: But, in spite of being tired, you keep coming back to them.
KR: Yes, both here and in Kisieland, instead of abandoning non-normative identities I delve in them. I used to be influenced by Andy Warhol's work. But I grew frustrated by the incompatibility of many contexts. In Poland we didn't really have Pop art, we never dealt with consumer culture critically, and we definitely lack a culture of pleasure. That's why I am currently returning to Eastern European contexts. I want to ask questions about the reasons behind my frustration, but also why certain Pop intuitions were not fulfilled – both those of Ryszard Kisiel and Natalia LL.
MS: Both projects took on the form of multi‑dimension work with archives and stories, which you intend to turn into tangible effects – an exhibition, film or book. But what do they have to do with artistic practice, what is the difference between your work and the work of an art historian?
KR: The difference is that I pay little attention to objectivity and systematic ordering. I choose who I talk to and what I want to talk about on a pretty whimsical basis. I work intuitively, looking for points of reference for my identity not only in myself, but also externally. In that sense, the film America Is Not Ready For This and the book which I am now working on are only by-products, records of my investigations, which are simultaneously open to other interpretations. The projects with Natalia LL and Ryszard Kisiel are, in a sense, artistic self-portraits. In fact, I am not making a documentary about Natalia but about myself, although she functions as a strong point of reference. You can see this in the question "Why didn't she stay in the West?" which I ask about Natalia, but really I'm also asking this about myself.
MS: What do you hear in this question? In my opinion, it mythologizes the West.
KR: Of course. And I would like to face this myth and the Eastern European minority complex. But you could also raise the issue of the general tendency of centralization of the art world. Young Portuguese and Italian artists also dream of moving to London, Berlin and especially New York. In the light of such strong centralizing tendencies, all the rest seems provincial – Toronto, Stockholm, Warsaw. Marina Abramović pointed to the emotions tearing apart Eastern European artists. They miss their homeland when abroad, but at home they fantasize about escaping to the West, or regret that they have come back. Marina asked me directly why Natalia went back to Poland, and after that she asked why I came back from my residency. On the one hand, I felt that the question is outdated, but then I started explaining myself – that I have a boyfriend, an apartment, a dog. What I heard in Marina's question was a condemnation of the return. She interpreted it as a defeat. That is why I think of this project as a project about identity, because I ask myself such questions. Is Warsaw my home, or am I more at home living the gay life in New York? Who is my audience? Are my works understood abroad, and in what context would they be situated there?
MS: Here we should probably ask ourselves how to talk about identity in a seemingly post-identity world? Theoretically, we know that identity is a cultural construct. But this knowledge doesn't diminish the influence of identity structures. Despite irritation, you constantly make art which deals with identity.
KR: So it seems. And when I say that I am tired of labeling, I probably mean I'm tired of the ubiquitous simplification and trivialization of everything.